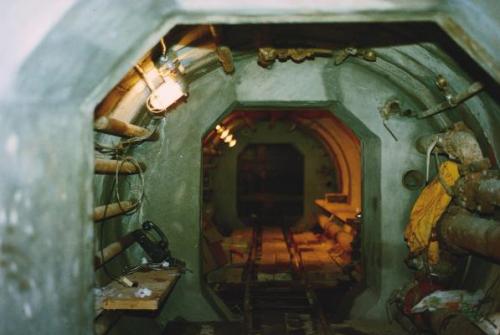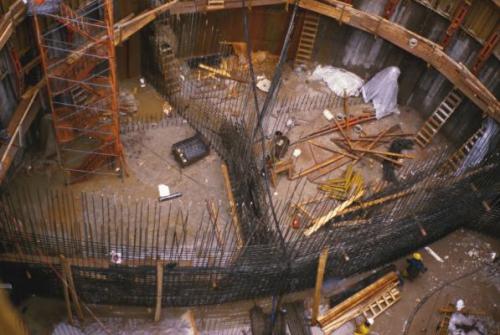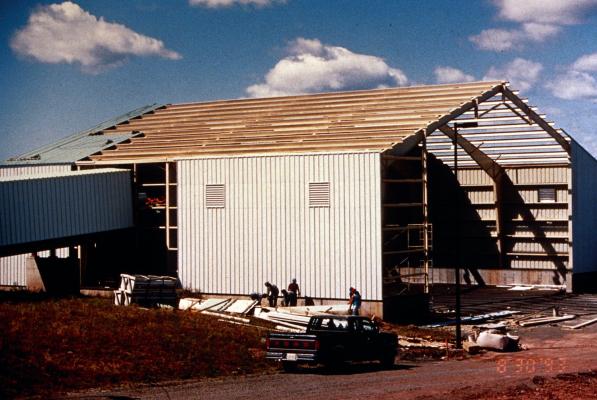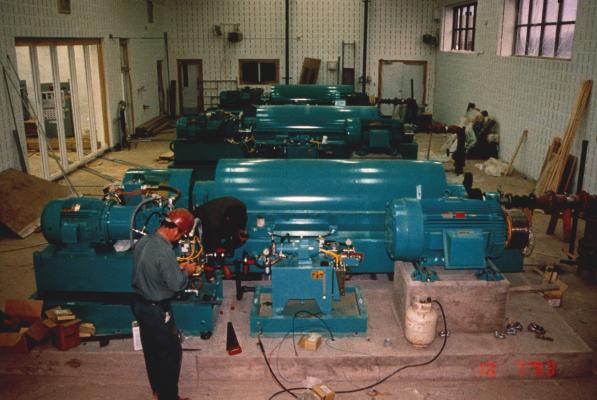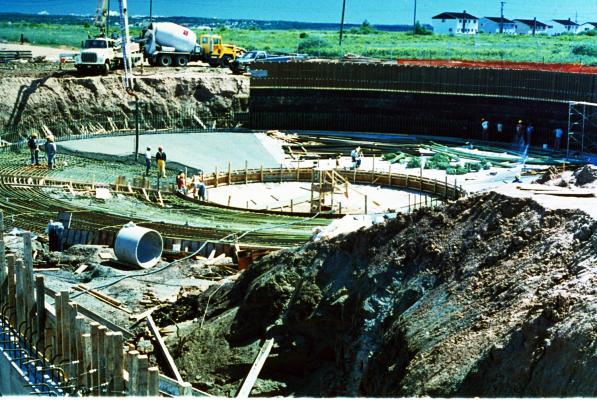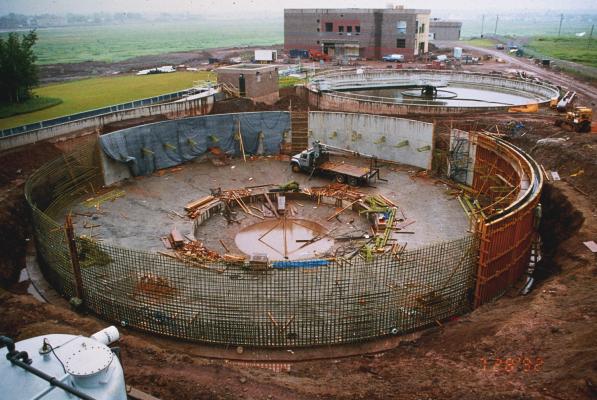 In the earlier development of local municipalities, they were serviced by combined sewers such that wastewater and surface runoff were collected together and discharged directly into to the river. Up to the late 70's, sewers built to service new lands were conveyed to the edge of the Petitcodiac River for direct discharge.
The construction of the Causeway in 1968 caused gradual silting and narrowing of the riverbed.
With the growing awareness of environmental concerns dealing with wastewater, various studies were completed to find a solution to an ever increasing volume of untreated wastewater entering the River.
In 1983, the Greater Moncton Sewerage Commission was created by an order in Council of the Province of New-Brunswick with the mandate to implement a Collector System and a Treatment Facility.
The initial undertaking was to construct a Collector Sewer System that would intercept all of these direct discharges and convey the wastewater to the Treatment Plant site in Riverview.
The Collector Sewer was constructed by open cut where feasible and by tunneling method along the downtown area, around the traffic circle and across the river. The Collector sewer was constructed as a gravity system and crosses the River before arriving at the Treatment Facility.
In view of the depth, a large 10 story underground Pumping Station was built on the Riverview side and equipped with large pumps to pump all wastewater to the headwork's of the plant. This station is constructed of reinforced concrete with walls at 1 meter in thickness. Over 9000 cubic meters of special mix concrete was used.
Construction of the treatment facility was carried out in distinct phases starting with the Main Pumping Station in 1989.
Pre-Treatment facilities consisting of Screening and Grit Removal were done between 1990 and 1991.
The initial treatment was designed to be a Chemically Assisted Primary treatment. In anticipation of a more advanced treatment in the future, the clarifiers were built as circular tanks and placed at an elevation that would provide for an easy conversion to secondary clarifiers. A second clarifiers was constructed in 1994 and a third in 2002-2003.
The by-product of wastewater treatment is the production of sludges that once dewatered and treated are called Biosolids. For this purpose, a large building was constructed to house the high speed centrifuges, conveyors and support systems.
An operation's center was also built in 1994 and houses offices, a control room, staff facilities and a maintenance garage. This building was upgraded in 2018 to create a larger laboratory, 2 additional offices, a fitness room, a records library and an industrial mechanics repair shop to meet the operational needs as a result of the $90.4 million WWTF Upgrade and Modernization Project.
Phase 1 (Preliminary Treatment) and Phase 2 (Primary Treatment) and the Septage Receiving Building were commissioned in July 2019.
The GMWC Septage Receiving Building was commissioned in 2019 where the treatment process initiates with preliminary treatment. Septage haulers offload septic tank waste which then passes through a flow meter, rock trap, grinder and is washed on a conveyor system that removes very heavy solids. This septage waste is pumped from the tank to the inlet chamber ahead of the fine screens where it becomes a constituent of the wastewater to be treated.
As part of the Preliminary Treatment Phase commissioned in 2019, two mechanically cleaned fine screens (6mm spacing) and an emergency bar screen (19mm bar spacing) were installed to remove large debris like rocks, sticks, rags, paper products and plastics. Screenings are then discharged into screw conveyors and then conveyed into disposal bins. For final disposal, screenings are transported to a sanitary landfill. Screening removes large debris which may otherwise interfere with downstream operation pumps, valves, diffusers, etc. Two additional aerated grit chambers were constructed for a total of four aerated grit chambers that are located downstream from the fine screens to remove grit. Inert material like sand, grit, cinders and other generally non-putrescible materials having a settling velocity greater than most organic material are known as grit.
There are four new Primary Clarifiers that were commissioned in 2019. Once the full biological process is commissioned, the new Primary Clarifiers will continue to provide solids settling ahead of the bioreactor and be able to provide chemically enhanced primary treatment during periods of extreme high flows. The combined volume of the four Primary Clarifiers is 13 million litres or equivalent to five Olympic size swimming pools. They are capable of processing flows ranging from 90 to 143 million litres per day and even higher with the use of chemical coagulants.