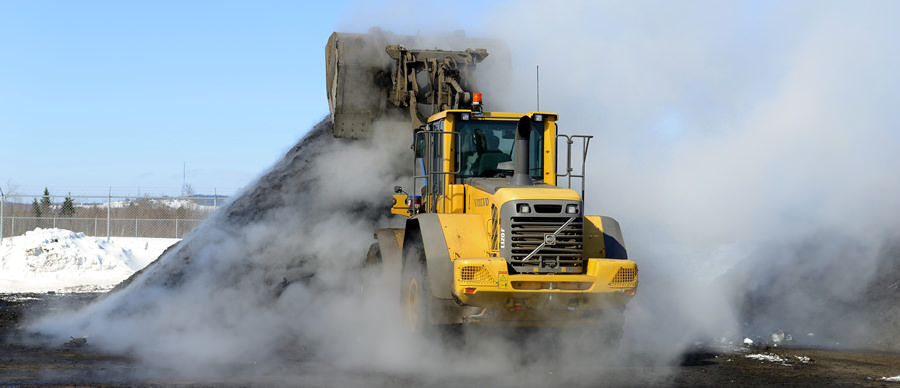 Wastewater treatment byproducts, or biosolids, are used as a key ingredient in the GMWC composting system.
Treatment of sludge at the WWTF involves conditioning with liquid lime, use of high-speed centrifuges for dewatering, followed by the addition of dry lime.
Upon arrival at the Composting Facility, it is mixed with green waste consisting of bark (from sawmills), ground forestry waste, wood chips and other green waste.
The initial mix produces 40 windrows, on average annually, that are 50 m long on the composting pad. Windrows spend a minimum of eight weeks on the active aerated pad and are turned over twice. The windrows are covered with a breathable cover during the initial phases and can reach temperatures of more than 70° Celsius. The windrows are then moved and grouped into lots of three initial windrows on the curing pad where they are conditioned and left to compost at a slower rate while cooling down. The complete process takes one year. Consequently, one year's production will be available for use in the following year.
Processing and product usage in the present year involves screening of the previous year's stockpiles (lots) for use by the general public, landscapers and local municipalities. The public was allowed to pick up compost free of charge from the self-loading bins. Product was sold to landscapers and is provided to the area municipalities for their horticultural activities and various land improvement/development projects.
2020 Historical Data Compost Operational Data (tonnes)
 

       Compost Clientele                             2015      2016      2017      2018      2019      2020

Public pick-up                                            4,000     5,750     5,000     5,300     5,765      6,592

Commercial users                                        960     1,000     1,000        650     1,156      1,862

City of Moncton                                            800          40         130        100        186        220

City of Dieppe                                               200          60           60          10          60          --

Town of Riverview                                          96       150          60         100         166         54

Other Municipalities                                                                                                190        193

Community projects (Donations)               400       200        200         160        339          14

Trials/tests/promotional                             400       200        150       1,500        695          --

Miscellaneous/TransAqua                           400       200        200         500        205          20

Annual compost output totals                 7,256    7,600     7,400       8,320    8,773         9,315

Compost Lots created                                   13         17          13            13         13            13

End of Season Inventory                           1,750       100     3,000        3,840      2,336       501